What could one expect?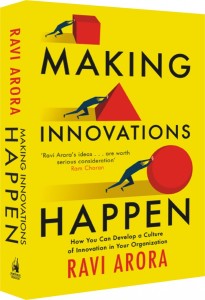 Despite the presence and willingness of well-trained, capable people who have the best of intentions, why doesn't innovation happen? This is a question that lingers in many of our minds while trying to drive innovation within our established companies.
Paul and Jiao, the protagonists of the book, attempt to find solutions to their innovation challenges by doing a deep dive of the rich innovation literature and connecting the dots. This is when they accidentally stumble upon a remote place to find themselves in one of the most forward-looking developed civilisations in the land of ancient Mavesher tribe and what they saw truly blew their mind.
They go on to unravel their out-of-the box solution called the 'Innovation Foresight' (IF) program part-by-part. They learn the method in details and are convinced that the same method could be used by the Boards for driving innovation led business performance in their companies. The method could be used to evaluate the performance of management and board on making innovations happen. Their conundrum of how to make Board and management provide equal focus and resources to short-term quarterly performance and long-term persistent efforts on innovation without over relying on the Charisma of the CEO gets resolved through this process.
They learn the challenges posed by the complexity of human behaviour that discourages ideation and execution of innovation projects. The IF program plays an enabling role in addressing these issues and also aids in enhancing internal and external collaborations that is essential for innovation projects.
Through its narrative style, the book attempts to reveal several truths, tensions, common misunderstandings, new perspectives and potential solutions. Paul and Jiao learn about several issues that are not consciously thought by managers in driving innovations for instance, the problem of excessive use of hard measures all along the innovation life cycle.
Join them as they embark on this adventurous journey on the less travelled paths and experience the simplicity in their revelations.
This is a fascinating and surprising book on innovation.  It introduces us to an interesting new concept on what can make innovation really work.  It is a joy to read, because it has the easy, flowing format of a novel.  A thoroughly engaging book, with very insightful points for practising managers to ponder over and take forward.
Endorsements
Harish Bhat, Member, Group Executive Council, Tata Sons; Author, Tata Log
Every company wants to become more innovative, but most get bogged down in short-term and risk-averse thinking. In this important book, Ravi Arora provides invaluable advice to any executive trying to Make Innovations Happen in their company. He provides a colourful overview of the existing thinking on innovation, and he also provides a provocative new methodology to help companies overcome their short-term, incremental approach to innovation.
Julian Birkinshaw, Professor, London Business School
Ravi intelligently distils myriad concepts around the practice of innovation in this compelling narrative.  His ideas for focusing on a wide range of innovations across the organization while driving quarter to quarter performance are worth serious consideration.  Readers will open their eyes to the realm of possibility while staying grounded to the real business context.
Ram Charan, Adviser to CEOs & boards; Author/Coauthor of 18 books, including The Game-Changer and Execution
Ravi Arora's book is innovative and definitely mind-stretching in at least two unusual areas. First, it dares to present a compelling holistic vision of how companies could create and deploy a coherent and integrated innovation management system involving all company constituents (from the board and top management team to front-line staff). As a whole, the future-oriented model it offers may look a little hard to reach in its totality, but many aspects of it are clearly implementable, like its emphasis on building a strong foresight capability or adopting a differentiated approach for innovation awards.
Second, it puts young and smart innovation managers at the heart of a rich discovery journey as they raise and address critical issues and paradoxes in innovation management. Whatever his/her experience, the reader cannot help sharing the same basic questions as the ones raised by these young innovation managers, and appreciating how they systematically obtain answers from scholars, experts and visionaries.
In short, this book is refreshing and adds a whole new dimension to all the perspectives we may have built over the years on innovation as a management discipline and forces us to think things further.
Jean-Philippe Deschamps, Emeritus Professor, IMD; Author, Innovation Leaders;  Lead author, Innovation Governance
I never expected this kind of book on innovation. The style of writing itself is an innovation. Ravi coalesces his practical experience on the subject with his wide reservoir of reading, yet presents the thesis with the apparent simplicity of a story. The simplest stories teach us the best lessons. Remember grandma's stories on complex subjects?
R Gopalakrishnan, Director, Tata Sons
Ravi's book, without question, is the most creative piece of writing on business that I have come across.  The book has practical lessons that get stored on the reader's hard disk and are available to be drawn down when needed. Ravi has coined several new words, some of which will find their way into management vocabulary. Along with Good to Great and The Alchemy of Growth, I now have a third that I would recommend to any manager who asks me what she should read in order to raise the bar on her performance.
Nihal Kaviratne CBE, Director, DBS Group
Every time I come across a new book on innovation, I wonder whether the author will have something new to say. Ravi Arora's book is a pleasant surprise because not only does it have several fresh perspectives on innovation, it's written as a story. I hope this book will do for innovation what one of the pioneering books of this genre, The Goal, did for the theory of constraints – bring it alive to millions of readers.
Rishikesha T. Krishnan, Director – IIM Indore; Co-author, 8 Steps to Innovation: Going from Jugaad to Excellence; Author, From Jugaad to Systematic Innovation: The Challenge for India
Ravi Arora has written a thought-provoking book that provides useful insights for driving innovation processes and outcomes across organizations. He draws on his rich experience of developing and executing the corporate innovation strategy at the Tata group and its companies. The book has an innovative and engaging narrative to develop key ideas and provides many tips for executives and managers who are grappling with the challenges and dilemmas in creating innovations while pursuing quality and excellence. This book is useful for anyone who wants to understand and nurture innovation.
Sunil Mithas, Professor, Robert H. Smith School of Business; Author, Dancing Elephants and Leaping Jaguars
Ravi Arora has set himself a very interesting challenge in this book, and he has done an admirable job of fulfilling his goal. Rather than yet another academic or consulting text on the best practices for innovation in large organizations, he has crafted a story of great depth that is filled with insights from his own considerable work in the field of innovation management.  By placing a group of interesting characters on a quest that is probably very much like the actual quest that many young executives are themselves pursuing, he offers a set of proven and often surprising insights in a subtle and very effective way.  You are sure to learn a great deal from this book.
Langdon Morris, CEO, InnovationLabs; Author, The Innovation Master Plan; Co-Author, Agile Innovation
In established organizations, innovation often doesn't seem to fit into an organizational engine in the nice, clean manner that TQM or 6 sigma or CMM fits.   The entire innovation process is often uncertain and reduced to the almighty funnel and 3 major steps: Seek Ideas, Send through funnel, Wait for breakthroughs, wait for breakthroughs, wait…And when the process doesn't work, the usual reaction is to blame the 'talent'.
If you've ever grappled with these factors and challenges, Ravi Arora's book is for you.   Written in an engaging manner with the protagonists actually learnin